"Last year was very bad," laughed Bizuneh Melaku Belachew, one of the bedraggled thousands who took part in the 2016 Standard Chartered Hong Kong Marathon. "But I feel very good today!"
As well he might. The Ethiopian danced a jig on the finish line after breaking the event record with a finishing time of two hours 10 minutes and 31 seconds.
With it, he landed a cheque for US$65,000 (HK$504,000) – along with a bonus of US$5,000 (HK$38,000) for finishing under 2:12:00.
And in perfect conditions, it was an Ethiopian double as
Chala Gulume Tollesa took the women's title in 2:33:39.
Belachew battled to eighth place in 2016 when the race was held in a bitterly cold downpour. The contrast could not have been greater on and off the track as he dominated the field in perfect weather.
Belachew and Julius Kipyego of Kenya broke away from the chasing pack coming out of the Western Harbour Tunnel and battled side by side most of the way to Victoria Park before the Ethiopian burned off his rival around the 40km mark. Another Ethiopian, Chala Adguna Bekele, was a distant third (2:11:32).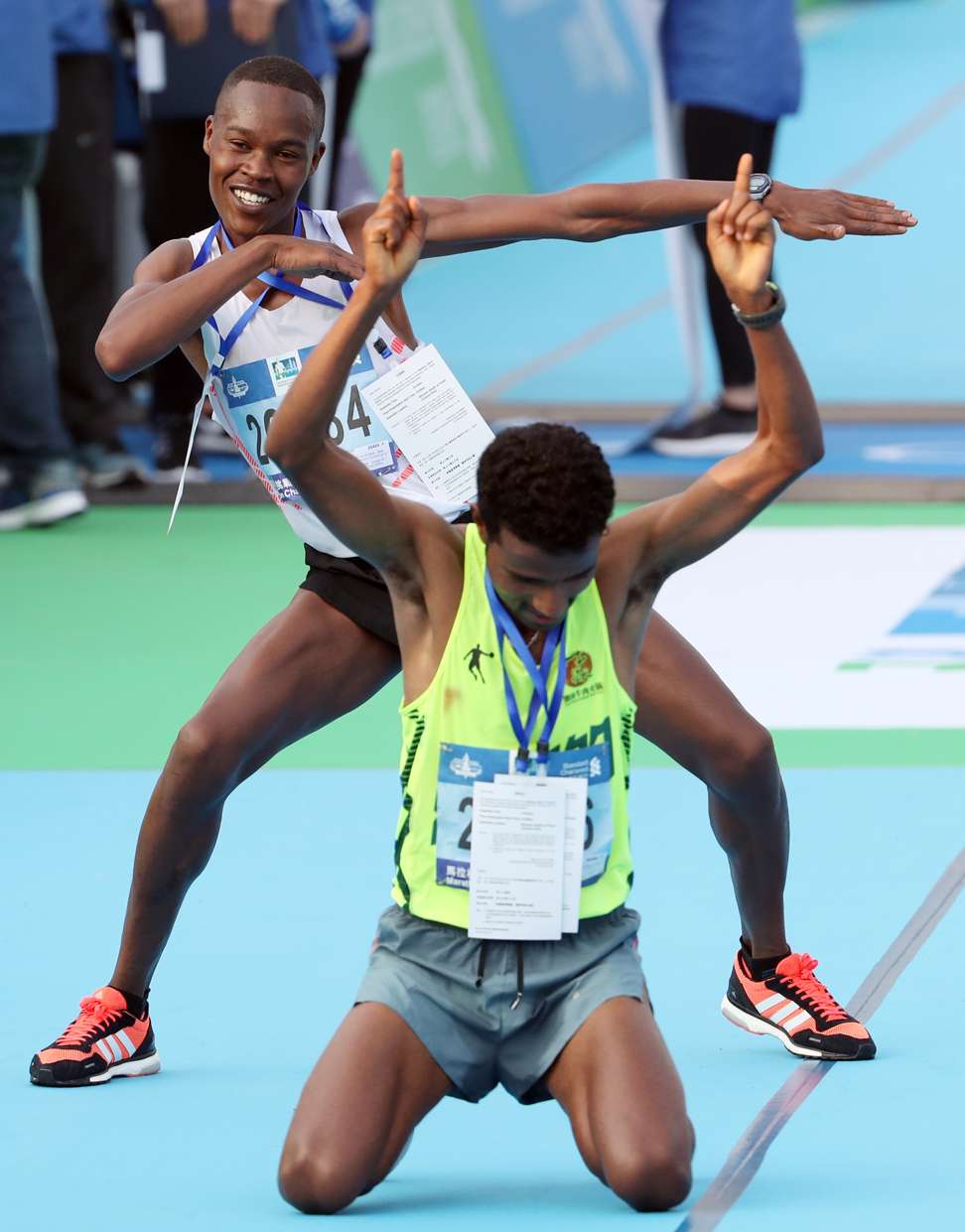 "I didn't know him before but we are friends now," joked the 27-year-old, who also won US$15,000 (HK$116,000) at the Ningbo Marathon in October.
His time, a new PB, was nearly a minute faster than the previous record set by compatriot Dejere Abera in 2012, although direct comparisons are somewhat misleading as the course has changed since.
"By about the 40km mark I knew Kipyego was tired and I still had plenty of power. I said, 'I have to win this race,' it was all mental."
Last year's winner, Mike
Kiprotich Mutai of Kenya, finished sixth, with veteran Italian-born Stefano Passarello the fastest local (2:32:21).
Belachew was rushing for a flight back to Addis Ababa, his US$1,000 (HK$7,000) investment in travelling for the race paying off 70-fold. Had he broken 2:10:00 he'd have landed another US$5,000.
"I'm so, so glad with the money," he added. "After winning Ningbo as well this year has been good fortune for me and I'll use the money to buy myself a house in Addis Ababa."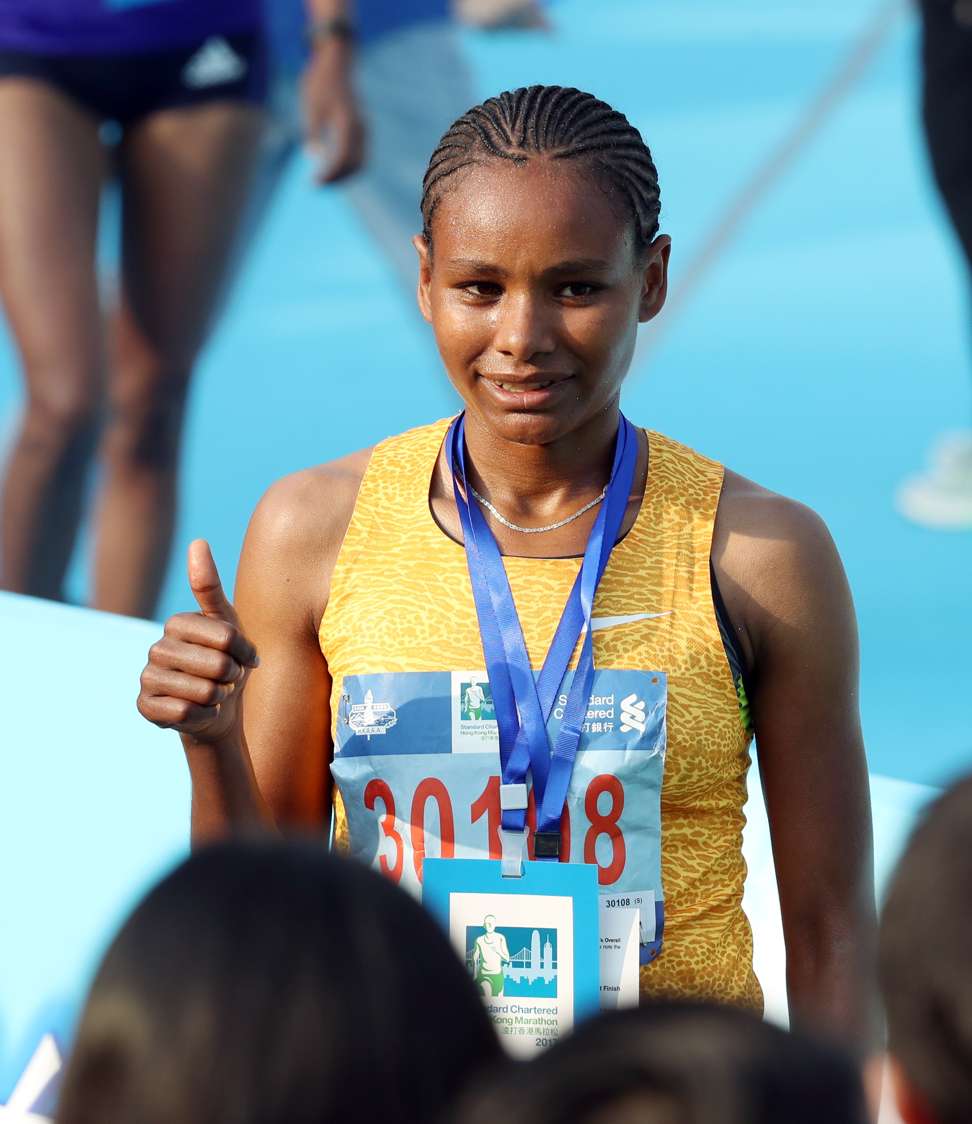 Women's winner Gulume won the Frankfurt Marathon in 2015 and was second in Paris and the Gold Coast in 2016, though her prize money from Hong Kong will beat all of those payouts
combined. No wonder her husband – also her coach – seemed a happy man as he translated for her.
"The weather conditions were great and it was very nice to run in," she said after finishing ahead of compatriots Aberu Mekuria Zennebe (2:33:43) and Betelhem Moges Cherenet (2:33:48).
"I won Frankfurt in 2:27 so today was a bit slower but I'm delighted with the win. We'll build a new home for the family with the money and maybe start some sort of business, a shop or market."
China's Wang Kun won the men's half-marathon (1:08:52) and Taiwan's You Ya-jyun the women's (1:18:14).
Hong Kong's Chan Ka-ho won the men's 10km in 32:10, with Mabel Lui Wai-man the winner in the women's (38:06).
Chen Mantang (30:16) won the men's 10km Wheelchair race, Chen Xiaochun (31:07) the
women's event.
Ethiopian in record-breaking run
IAAF
LEADING RESULTS                          
Men
1 Melaku Belachew (ETH) 2:10:31
2 Julius Keter (KEN) 2:10:34
3 Adugna Takele (ETH) 2:11:32
4 Julius Rotich (KEN) 2:11:44
5 Samuel Maswai (KEN) 2:12:50
6 Mike Mutai (KEN) 2:13:16
7 David Kiyeng (KEN) 2:13:29
8 Joel Kiptoo (KEN) 2:13:57
9 Abraraw Misganaw (ETH) 2:14:19
10 Benson Cheruiyot (KEN) 2:14:50
Women
1 Gulume Tollesa (ETH) 2:33:39
2 Aberu Mekuria (ETH) 2:33:43
3 Betelhem Moges (ETH) 2:33:48
4 Letebrhan Haylay (ETH) 2:33:56
5 Azalech Masresha (ETH) 2:34:35
6 Tsehay Desalegn (ETH) 2:34:44
7 Ehite Bizuayehu (ETH) 2:34:49
8 Ayantu Abera (ETH) 2:34:58
9 Etalemahu Habtewold (ETH) 2:35:39
10 Shewarge Alene (ETH) 2:40:21