Image copyright

REUTERS

Image caption
South Africa's former President Jacob Zuma is on court on corruption charges related to a 1990s arms deal.

The charges dogged his presidency and were reinstated in 2016.
He faces 16 counts of corruption, racketeering, fraud and money laundering at the High Court in Durban.
Mr Zuma, who was forced out of office in February, denies any wrongdoing. His supporters have descended on the city to rally for him, while his critics think court action is long overdue.
The 75-year-old arrived at the court in his home province on Friday morning, smiling and giving a thumbs up to the crowd, according to Reuters news agency.
His appearance at the hearing is likely to be brief. However, as the BBC's Andrew Harding says, the former president appearing in a dock on corruption charges is "hugely symbolic" for South Africa's young democracy. Many, he reports, will see it as an era of impunity coming to an end.
Mr Zuma and his legal team insist the charges are trumped up and politically motivated.
What was the arms deal?
Mr Zuma was deputy president at the time of the decades-old arms deal.
He is accused of accepting bribes from French arms firm Thales via his financial adviser at the time.
The adviser, Schabir Shaikh, was found guilty of trying to solicit the bribes and was jailed in 2005.
The case against Mr Zuma was dropped shortly before he ran for president in 2009.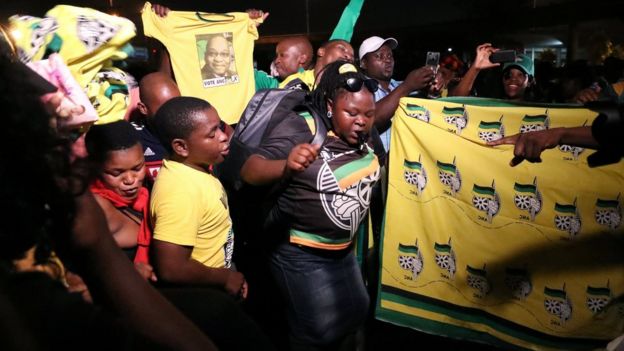 The mood in Durban
By Pumza Fihlani, BBC News, Durban
Downtown Durban is a hive of activity – as the province's beloved Jacob Zuma once again steps into the spotlight – once again courting controversy.
Some of the roads around the grand court building have been cordoned off, a large stage has been erected by Mr Zuma's supporters a few metres from the courthouse – they are hoping he will use it to address them after the proceedings.
Meanwhile, hundreds of police officers are standing guard outside as all here prepare for the arrival of the former president of South Africa.
The last time Mr Zuma was in court for a trial was more than 10 years ago on rape charges – he denied the allegations and the case was later dropped. Back then, thousands came to support him including members of his own ANC party.
This time around the party led by the new president Cyril Ramaphosa is keen to distance itself from the controversy as the party prepares to contest the national elections in a year's time. Mr Ramaphosa came in on a ticket of clean governance and his party cannot afford another scandal, but for the people here Mr Zuma remains a hero, a man who brought development to forgotten corners of this vast and largely rural province.

Mr Zuma's opponents have long fought to have these charges reinstated; something which was made more possible once his grip on the ruling party, the African National Congress (ANC), weakened.
Intense pressure from the ANC led to the former president resigning two months ago. He had been told to step down or face a vote of no-confidence in parliament.
Mr Zuma's remaining supporters argue that he is being targeted for backing a radical economic reform agenda.
A battle is also brewing over whether the state should keep paying his legal bills.